Welcome to Rainbow Auto Salvage. We are proud to be one of the best auto savlage facilities serving the local area.
We offer quality foreign and domestic used automotive parts, cleaned and racked for fast service, and prices that you can afford.
We have the best system available to help locate the auto part you are looking for, allowing us to give you faster and more efficient service.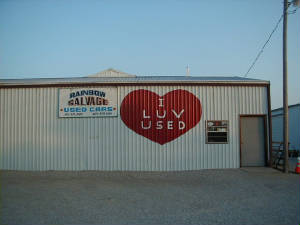 Just call us and one of our qualified and friendly staff members will help you with your used auto parts needs
~Hours of Operation~
Monday - Friday
8am - 5:30pm
Saturday 8am - 12pm
~We Luv Used~