We are an environmentally friendly dismantling facility.
Our business was established in 1984.
Our company stays on top of every environmental concern by following certain guidelines involving the handling of hazardous materials.
Compare our prices to others and you'll see the difference. When you buy from us, you'll end up with more money in your pocket.
We take great pride in offering a quality product with great customer service.
Our staff of trained, professional auto parts experts will get the right parts to you and give you a good deal on them.
We are members of ADRA of Oklahoma and The Holdenville Chamber of Commerce.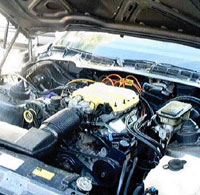 To learn more about our terms and conditions please inquire at (405) 379-5180. We look forward to assisting you with your used auto parts needs.
~We Luv Used~